Europe as a global player in Internet governance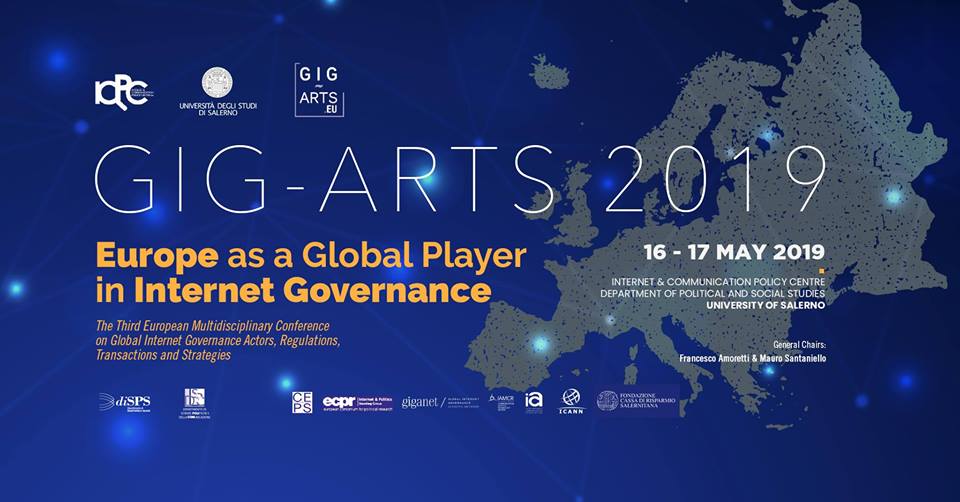 Qual è il ruolo dell'Europa nella governance di Internet? Quali strategie e quali strumenti sono adottati dalle istituzioni europee nelle proprie politiche di sicurezza informatica, di difesa della privacy, di tutela dei diritti online, di sviluppo del mercato digitale, di gestione delle infrastrutture di comunicazione? In che modo l'Unione Europea e i suoi Stati Membri competono e collaborano con gli altri attori geopolitici e con le grandi corporation che gestiscono algoritmi, piattaforme e dati?
Un convegno internazionale in programma il 16 e 17 maggio 2019 al Campus di Fisciano dell'Università degli Studi di Salerno affronterà queste e altre domande fondamentali per il futuro di Internet e dei network digitali. Oltre cinquanta studiosi di fama internazionale, provenienti da quindici Paesi, presenteranno ricerche inedite nel campo dell'Internet governance, alternandosi in sei panel di discussione sul tema "Europe as a global player in Internet governance". Parteciperanno economisti, sociologi, scienziati della politica, giuristi, informatici, chiamati a raccolta presso l'Ateneo salernitano per la terza edizione della "European Multidisciplinary Conference on Global Internet Governance Actors, Regulations, Transactions and Strategies" (GIG-ARTS), un evento annuale itinerante, tra i più importanti e prestigiosi del settore.
L'evento, organizzato dall'Internet & Communication Policy Centre del Dipartimento di Studi Politici e Sociali, si terrà nell'Aula De Rosa a partire dalle 8:30 di giovedì 16 maggio, e sarà aperto da un video messaggio della Commissaria UE per l'Economia e la Società Digitali, Marija Gabriel. Alle 14:30 le presentazioni accademiche, coordinate dai General Chairs Francesco Amoretti e Mauro Santaniello, docenti dell'Università di Salerno, lasceranno spazio a una tavola rotonda sul tema della regolamentazione di Internet, cui parteciperanno il Senatore Giacomo Stucchi, ex Presidente del COPASIR, Guy Berger, Direttore della Divisione Freedom of Expression and Media Development dell'UNESCO, il Commissario per le Infrastrutture e le Reti di AGCOM, Prof. Antonio Nicita, il Direttore dello Stakeholder Engagement Europe di ICANN, Andrea Beccalli, Max Senges di Google Germania, e l'avvocato Piefrancesco Fasano di MFSD Domain Name Dispute Resolution Centre. Le presentazioni scientifiche continueranno fino alle 19:00, quando il convegno si sposterà nei locali del Museo Archeologico Provinciale di Salerno, per il keynote speech della professoressa Robin Mansell della London School of Economics (LSE).
Venerdì 17 maggio altre tre sessioni di presentazione affronteranno i temi dei diritti digitali, della cybersecurity, della privacy e dell'economia digitale. I lavori termineranno alle 16:30.
L'organizzazione della terza edizione di GIG-ARTS a Salerno si inserisce nel quadro di una strategia del Dipartimento di Studi Politici e Sociali incentrata, tanto sul versante della ricerca scientifica che dell'offerta didattica, sulle trasformazioni socio-culturali e politico-istituzionali connesse ai processi di innovazione tecnologica, in particolar modo allo sviluppo delle reti cibernetiche e dei media digitali.